IPTV Solutions, Video Streaming, DVB-IP Streamers
DVB-IP Streamers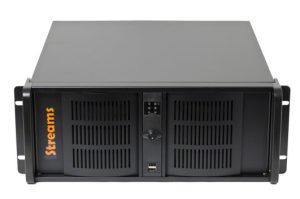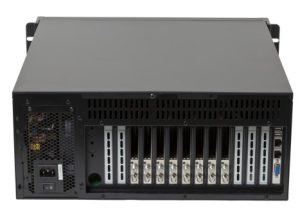 DVB- S2 Streamer
QPSK, 8PSK, BPSK up to 24/ 48 transponders per Streamer, offering up to 150 Live TV Scrambled or Free to Air. Each Streamer can be equipped with up to
24 CI slots for CAM Modules.
DVB-T2 Gateway
COFDM, up to 48 Multiplex per Streamer, offering up to 500 Live Free to air TV Channels.
DVB-C Gateway
QAM, up to 48 frequencies per Streamer, offering up to 500 Live Free to air TV Channels …
DVB-IP Point to Point Streamers
iStreams is also offering a DVBS/DVBS2 Streaming System which allows multiple client STBs to share a set of SAT DVBS2 receiver cards … This system
can be use to share PayTV subscription between multiple rooms in large private villas.
User can dedicate one or all SAT cards within the Streamer to one or several STBs.
This feature allows to use each of the the Streamer Sat cards as a standard SAT decoder, with a full reception range.
H265UHD – H264HD, MPEG2 IP Encoders
H265 Ultra HD – H264HD – MPEG2 Encoders
iStreams is providing H265UHD-H264HD-MPEG2 Encoders which allow internal IP distribution of any video signals coming from internal video cameras or CCTV, or from
any computer generating broadcast image through HDMI or SDI …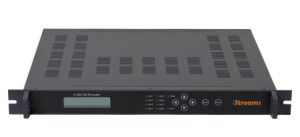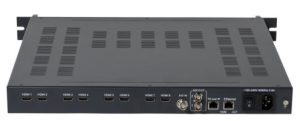 H265UHD, H264HD and MPEG2 encoders can be added to any DVB Streamer platform.
Encoders are delivered into 19 inches rack 1U enclosure …
iStreams can also provide multiple H264UHD, H264HD encoders with 4 HDMI, 8 HDMI, 4 SDI, or MPEG2 with 4 Composite Inputs
HTTP, RTSP, HLS Video on Demand Server
HTTP, RTSP, HLS  VOD Server
iStreams provides a full range of  VOD Servers allowing to connect hundreds of users to Video on Demand Services.
The VOD server is providing HTTP, RTSP, HLS interface and offers full compatibility to a very large range of applications and STBs …
HTTP, RTSP, HLS Live TV Server
iStreams provides extensions which will allow to receive Live TV streams through HTTP, RTSP or HLS streams.
FILE STREAMING Extension
The iStreams VOD Server is offering a File Streaming Extension, which allow to create internal TV channels based on files playlist …
PAY TV Extension
iStreams VOD Server can also be used to stream "Pay TV" services over an IPTV network …
Recording Extension
iStreams is offering a Recording Extension to its VOD Server, which allow to record any TV channel at any time, on a particular
date and time or on a regular frequency, from the Administration user interface or from any Client user interface.
Permanent Recorder
iStreams provides Permanent Recorders for Editorial Monitoring and Analysis .
Those recorders can store TV channels on large period of time, but also can manage file compression, and on line availability…
Several kind of client softwares running on PC and MAC environment are provided regarding the particular needs of each projects…
Middleware Administration Software
iStreams offers multiple administration software levels, in order to provide a right-sized solution to any customer need …
Level 0
Level 0 means no Administration at all. To provide this level, iStreams will provide standalone STBs which will be able to
operate without any server.
Level 1
Level 1 means STB management and content management. This level allows to manage STBs, and create multiple TV channel lists which
can be associated with STBs or group of STBs … This level is also offering EPG, multi language and sub-title access.
Level 2
Level 2 is adding interactivity and multimedia content to Level 1 … Selecting Level2 means accessing to Video on Demand, Music on Demand,
Web Access, RSS Feeds Access, Weather Forecast, Personal Video Recording, …
Level 3
Level 3 is offering Level 2 functions plus "Hospitality" functions, like PMS Interface, Guest Marketing Tools, Guest Messaging, Room Service, House-Keeping, e-Shopping,
Wake-Up Calls, Welcome and Emergency Messaging, PayTv services …
IPTV Clients
STBs
iStreams is providing IPTV Client applications based on its Android Set Top Box (STB)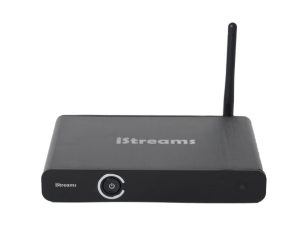 Smart TVs
iStreams is also providing Client Applications for many HTML based devices like its iStreams TV, but also LG and VESTEL devices .
Android TV's
iStreams is providing "Android TV" apps to be integrated to SONY, PHILIPS or VESTEL Android TV product line.
PC and MAC Browser or Dedicated Softwares
Client software is also available on PC and Apple Macintosh™ platforms through Mozilla Firefox™ or Google Chrome™
browsers . We also provide dedicated Client application running on Microsoft Windows™ XP, Vista, 7.0 and Mac.OS 10™.
IP- LCD ELED Screens
iStreams is also offering totally integrated IP-LCD-ELED Screens. Those LCD-ELED Screens are very easy to install, maintain, and are
provided at a very efficient sale price …